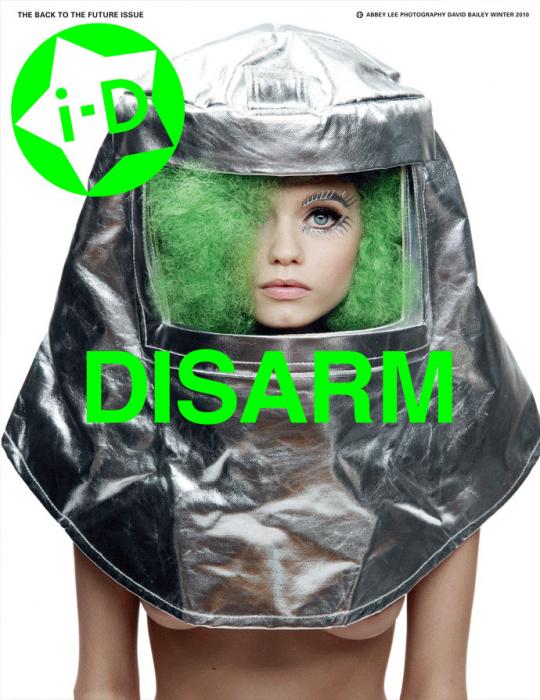 Bought this today when I was in town shopping, it's been horrible weather - none stop raining and when I saw this AMAAAZING cover of i-D with Abbey Lee on the cover I HAD to get it. I think it cheered me up from the gloomy day. Yay for it being Friday though! This issue is jam-packed with amazing photoshoots & photography (as always..).
It has pictures featuring more of Abbey Lee inside and also Kate Moss! And a spread on Nadine Coyle from
Girls Aloud
. Well worth your £5.
xoxo,
Isabella
The Back To The Future Issue is the third and final part in i-D's 30th anniversary trilogy. We're looking forward and seeing stars.

The past affects the future: four exclusives, four dialogues.
DISARM: Abbey Lee by David Bailey and Charlotte Stockdale – a relentless, apocalyptic vision of beauty.
AMAZE: Dree Hemingway by Matt Jones and Allan Kennedy – Dree Hemingway has personality to captivate.
INSPIRE: Kate Moss by Alasdair McLellan and Edward Enninful – Kate Moss collaborates with Longchamp and continues to define style.
IMPRESS: Kanye West by Fabien Montique and Rushka Bergman – Kanye is one of the most vocal, provocative superstars today.
Plus insi-De Terry Jones talks in-depth to Jonathan Ive and Marc Newson in another exclusive feature. And we meet the next wave of UK urban music talent.
Sixty miles an hour! Non-stop. Your future's whatever you make of it, so make it a good one.
SOURCE
There are other covers from this issue I've just found online now!
Didn't know there were more but to be honest, I still prefer mine :)


Kate Moss ||| Dree Hemingway